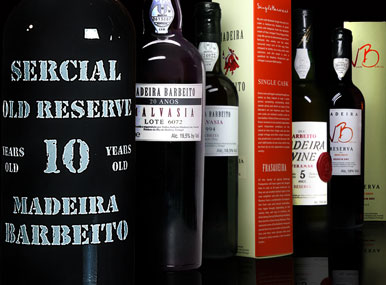 Nature plays an important role in the production of our wines. We take advantage of the fact that they are aged in three distinct warehouses, all with different climatic characteristics and different sun exposers. This fact enables us to obtain an enormous variety of wines aged by the Canteiro method. All of these characteristics contribute to Barbeito's unique style: long and fresh acidity after taste.
Warehouse C is situated at Torre, in Câmara de Lobos. Here, we obtain soft wines, with less acidity and colour. These, however, need to age for a longer period of time. In this warehouse, where we have casks with capacities that range from 300 to 700 liters, the annual average evaporation is 3%.
Warehouse D, also in Câmara de Lobos, was built in the 40's by the Afonso family for the main purpose of aging wines. This warehouse has a zinc roof which contributes to increase the heating inside especially when the weather is sunny. During summer, higher temperatures originate greater concentrations. In winter, as it is very cold, it helps balance the concentration and fine the wines.
Warehouse E is located at our winery, built in 2008. The new warehouse is a unique but spacious area with different temperatures. The roof is built in zinc and concrete. The larger part, covered with zinc, registers higher temperatures and evaporation reaches 3% per year. The smaller area is covered with concrete. Here, temperatures are lower which results in an annual loss of 1 to 1,5%. In the warmest area, wines have a faster maturation and more sugar concentration whereas at the cooler side maturation is slower, thus achieving more elegant and fresh wines.
SINGLE HARVEST
Our aim with this Barbeito Single Harvest was to create medium dry Madeira of great purity and elegance, made from the Tinta Negra grape. We set out to demonstrate that wines made from this grape and aged by the traditional Canteiro method can be very distinct. These wines are the result of a careful selection of grapes from vines of the north and south part of the island. After aging we select the best wines from our casks and bottle only a limited quantity.
SINGLE CASK
Every now and again, when tasting our wines aged in cask, we come across something outstanding which stands alone, and which no input of the blender's art can improve upon. These rare casks are selected and isolated, during a year or two and depending on their natural maturation conditions we decide upon the ideal time to bottle them. These Single Casks, as well as single vintages, often come from a single vineyard. Production is normally between 500 and 1200 bottles of 500ml, each individually numbered.
FRASQUEIRA
From the "family" of special bottlings, the Frasqueiras are the ones that spend the longest time in cask: 20 years minimum. They have a distinct style, being more full-bodied, with more evolved flavours and aromas result of the combination of evaporation and natural caramelisation consequence of its long aging. Depending on the variety of grape used, they will vary in sweetness, the driest being Sercial, followed by Verdelho, Boal and the richest being Malvasia. They represent some of Barbeito's "treasures" passed down from generation to generation and their rarity dictates that each frasqueira rarely exceeds a few hundred bottles.